What exactly are managed IT services?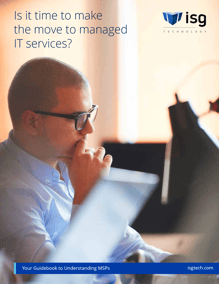 Why are so many offices now outsourcing their IT to managed services providers (MSPs)? Quite simply, it makes your life easier. When you trust an MSP with your technology, you don't have to worry about it anymore. Having them take care of anything from your email and cloud services to infrastructure upgrades and installments gives you more time to focus on what matters - your business. Oh, and they're also very affordable.
Register to get your free copy of our Managed Services eBook!