Creating a disaster recovery strategy for your company requires a lot of planning and research. How well do you know your DR plan?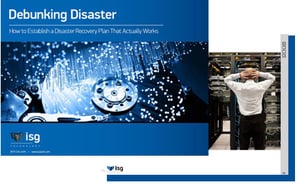 Download our free disaster recovery eBook "5 Crucial Components of a Disaster Recovery Plan" which will discuss:
The different types of disaster you need to prepare for
How to establish a disaster recovery plan that actually works
The most crucial elements of your disaster recovery strategy
And much more!
Fill out this simple form to download our white paper and determine the best solution for your business.
C
ontact us at
877-334-4ISG (4474)
to take a physical tour of one of our data centers, or to set-up a consultation.