Ensuring Strategic, Methodical Adoption of the Office 365 suite with the right backup environment
IDC research finds that email and collaboration is the most mature business process within SaaS, and it is the most adopted at 61%. As one of the most popular SaaS products, Microsoft Office 365 adoption is accelerating, and its use is expanding beyond Exchange to more services including SharePoint, OneDrive, and Teams.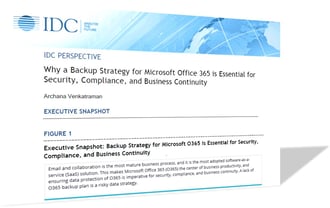 While O365 is becoming the center of business productivity, a backup and recovery strategy is just an afterthought. 6 in 10 users of O365 do not have a data protection plan for their O365 estates or rely on Microsoft's native capabilities.
Regardless of whether the data is on-premise or in cloud, ultimate responsibility of data protection lies with the customer or the data owner — you. The first step is to understand the responsibilities of Microsoft and O365 user organizations. Find out more in this white paper, and contact us if you have any questions.